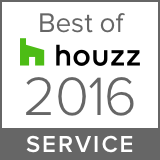 Ireko, one of Northern California's premier interior design and furniture galleries, is honored to announce that it has been awarded the prestigious Best Of Houzz 2016 award!
Every year Houzz, the leading platform for home remodeling and design, honors the design professionals behind the most popular photos on Houzz. Houzz recently counted how many times more than 35 million monthly Houzz users clicked to add a photo to an idea book. The professionals with the most popular of those photos – the most added to user idea books – earned a Best of Houzz 2016 badge.

"We are honored to receive the Best Of Houzz 2016 award." commented Jim Rascoe and Michael Webb, owners of Ireko.
These photos of our contemporary interior and exterior designs were most favored by visitors to Houzz.
San Francisco Condo Redesign
Creating an elegant bedroom was the last step in the interior design project at this San Francisco Millenium Tower condo. Jim and Michael reimagined the bedroom using shades of ebony and mahogany on the surrounding walls, flowing from the ebonized wood flooring.
The classic yet contemporary design was completed with chrome accents, a classic leather chaise, a zebra wood bar, and a partner's desk beside the floor-to-ceiling glass windows overlooking the San Francisco Bay. The interior design for this room provides a sense of warmth and calm.
Please also visit our portfolio page to view the entire project and read about this condo interior design project on our blog.
Interior Design of Vacation Home in Kenwood
This stunning living and dining room located in the the picturesque Northern California town of Kenwood was also popular with Houzz visitors. Kenwood, located at the northern end of Sonoma Valley, appeals to wine enthusiasts and nature lovers alike. The interior design project at this amazing vacation home is currently underway and will be featured on our blog soon.
View our portfolio of interior and design projects completed throughout California and contact us to explore the design possibilities at your home or business. See our other Awards here.