We are honored to have received several prestigious awards for interior design and furniture.
2019 PD Best of Sonoma County
Interior Design Finalist
Ireko was a finalist in the Press Democrat's annual Best of Sonoma County voting.
2019 Best of Houzz Award
Client Satisfaction
Ireko was rated at the highest level for client satisfaction by the Houzz community for 2019.
2018 Graphic Design Award
For 55 years, Graphic Design USA has sponsored competitions to spotlight areas of excellence and opportunity for creative professionals. GDUSA's American Graphic Design Awards is the original and the flagship, open to the entire creative community and honoring outstanding work of all kinds and across all media. Roughly 10,000 entries were submitted; a highly selective 10% are recognized. Ireko and Hausman Design are winners.
2017 and 2014 Prime Buyers Report
Top Interior Designer
Ireko was selected one of the top 10 Interior Designers in Sonoma County CA by Prime Buyer's Report in both 2017 and 2014. Growing with over 7 million uses each year, consumers trust The Prime Buyer's Report to avoid the scam, fraud and businesses with low customer satisfaction. Editors and research staff of The Prime Buyer's Report perform phone call surveys with customers of local businesses, phone calls to company owners and one-on-one interviews, and more to determine the businesses that are safe to spend with. Ireko was determined to meet the top 10 criteria for evaluating the quality and trustworthiness of a local business by the independent researchers at The Prime Buyer's Report. Read more about the Top 10 Interior Designers in Sonoma County on the Prime Buyer's Report website.
2016 Best of Sonoma County
Honorable Mention Furniture
Ireko was awarded honorable mention in the Best Furniture Store category for Best of Sonoma County 2016. Readers of The Press Democrat nominate and vote for their favorite businesses, venues, restaurants, and hidden gems in Sonoma County!
2016 Best Of Houzz Award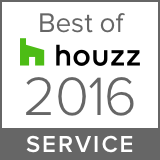 Ireko was awarded the prestigious Best Of Houzz award in 2016! Every year Houzz, the leading platform for home remodeling and design, honors the design professionals behind the most popular photos on Houzz.